Lara's Jewelry and Design, established February 16, 2009, is a locally owned and operated full service fine jewelry store in Hot Springs, Arkansas. Lara, Jennifer & Rob have been working together since the '90's.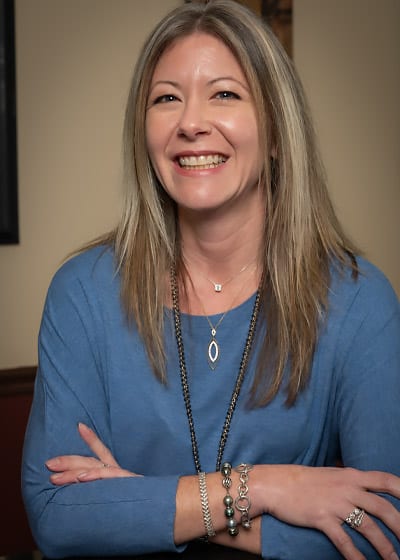 Lara began her career in the jewelry industry in 1993 working for her mentors at Collier's Finer Jewelry. When the Collier's retired in 2009 Lara decided to start Lara's Jewelry and Design with her friends by her side. Lara was born and raised in Hot Springs, has been married since 1993 and has 3 boys.
"I have had a passion for jewelry and a fascination for diamonds and gemstones since I was a little girl. My family marked every special occasion and milestone with a piece of jewelry. I still have them all."
Jennifer has been in the jewelry industry since 1994. She received her first pair of diamond earrings when she was 11 years old and that is when her love of jewelry started. Jennifer has worked in the jewelry industry in Arkansas and California. Some of Jennifer's favorite things about the industry is re-creating or combining heirlooms from the past and making them current. Jennifer was raised in Hot Springs, has been married since 1998 and has one son.
Foxy Brown
Shop Dog / Security Detail
Our adorable PooPooDoodle has been working with Lara's Jewelry and Design since 2013. She loves coming to work and greeting customers with her friendly eyes and wagapoof. She has a great attitude and will be your best friend if you bring her a healthy treat. She might even do a trick for one.
Rob Saettele
Professional Jeweler
Rob started on the bench professionally August 1984 under his father, James A. Saettele's tutelage and has been at it ever since. Areas of specialties include fabrication, platinum work, laser welding, design, hand-carved waxes, organic material, complicated repairs and restorations.
Misty Laster
Sales / Tech
Misty started in 1994 doing jewelry sales and repairs. She loves many things about the jewelry industry profession, from helping customers design their dream ring to displaying and caring for the beautiful pieces in our store.
Keenan Pranter
Sales / Tech
Keenan is Lara's oldest son and has been working and learning since 2020.